A Nigerian fashion designer, Chioma, used her marriage ceremony to make a big fashion statement that wedding gowns can be in ankara
A Nigerian woman and fashion designer, Chioma, has given many people things to talk about after wearing an ankara-styled gown on her wedding day.
The whole social media was set abuzz by the creativity as many people said the style was such a bold move.
Read her friends' tweets and compliments below:
My fellow Nnewi sister and badass Nigerian Fashion designer @Theonlychioma had her White wedding yesterday wearing this gorgeous custom made Ankara wedding dress.

The creativity, boldness and uniqueness of it all😍

I love it!!!! pic.twitter.com/m2bzwlWUf8

— Your Fave (@TheIfunanya) January 31, 2021
See how my secondary school mate Chioma dressed to her wedding
There's an uproar in our WhatsApp group. What you guys think? pic.twitter.com/O4debE8WQK

— Under10kshopp (@under10kshopp) January 31, 2021
People who are close to the bride took to social media to share snaps from the wedding ceremony as they expressed how great Chioma's dress looked.
As at the time of writing this report, her photos have gathered thousands of engagements online with over 10,000 likes.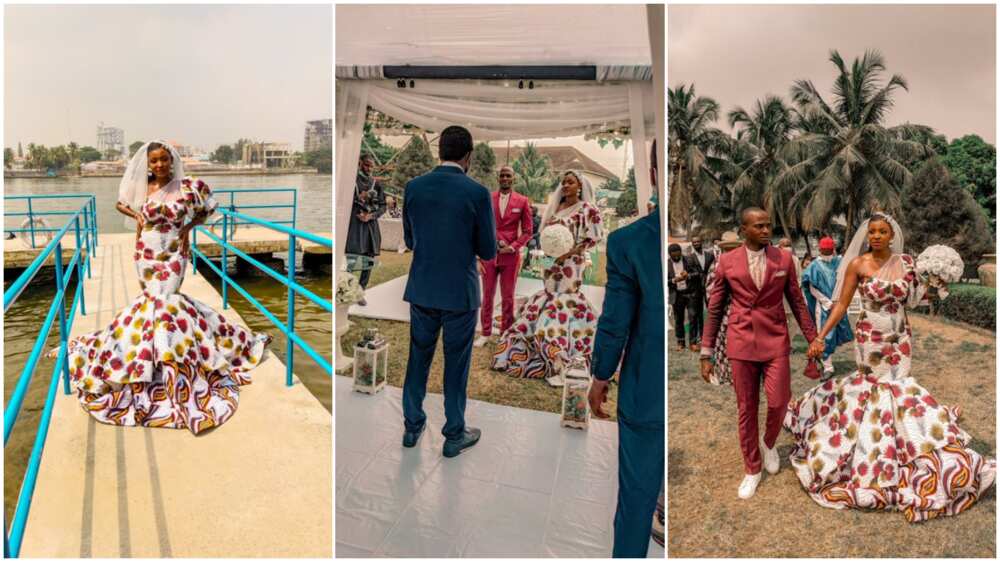 The reactions from tweeps:
@blessingogahbo said: "I thought the ankara or traditional dresses were meant for the traditional wedding."
@TunboMcwise said: "So nice! Wished the groom had used African fabric too."
@EbereAkunyio said: "The beauty and uniqueness for me." Check out the ankara-style wedding gown this woman wore during her marriage ceremony A Nigerian woman has shown off great creativity with her ankara wedding gown. Photo source:



@TheIfunanya Source: Twitter @_taurieI said: "This is what I want to see. White dresses are so expensive if they would be this beautiful. Boring cliche most times. Ankara is so beautiful, I wish we could do more of these. It's so nice on her."
@MikeIkenwa said: "I thought it's called white wedding because she wears white gown, or because it was introduced by the white, I don't get where the white came in this wedding."